About Robert
Robert Abate, a vocalist and master of guitar has spent his life pleasing audiences in and around the Midwest, focusing on the metropolitan Detroit area.  December, 2007 his life path took the fork up to the beautiful north woods and now this big city talent is a permanent resident of Traverse City, Michigan.   Abate's (pronounced AH-BAH-TEE) performance energy generates an American music experience encompassing song and sound from Jazz to Rhythm and Blues, Latin to Pop, both covers and originals.
Robert can provide quality music for easy listening and/or dance, high energy or smooth jazz with thought provoking lyrics and soft sensitive interludes of musical romance.  His creativity is perfect to satisfy any event or occasion.   A teacher of guitar, composer, arranger, director, producer, song writer, vocalist, recording artist, studio musician and a band leader, Robert carries the love of music with him daily. Creating, arranging and performing mixed with his serious personal dedication to accomplishment is who Robert Abate is – an authentic music man with a sincere desire to be the best at pleasing people with his music.  His lyric's, guitar licks and personality, are both serious and delightful.
How Did The Maest Get Here?
Born in Ft. Leavenworth, KS, March 3, 1950 to a musical mother, Irene, Robert is the grandson of Robert Kowalski who played professionally in the 20's and 30's with many bands including the well known Paul Whiteman Band. It was at the influential age of 8 that Robert Abate (an avid Elvis fan) received his first guitar at Christmas from his parents and "the "Maest" has not laid it down for 57 plus years. He began his professional career at the age of 18. As a young man he attended Wayne State University in Detroit as a musical performance major. He has continued up a path, to create, stretch, learn, teach, write, arrange and perform, which is why he is known by many as "Maest".
Robert has performed with greats such as Marcus Belgrave, Robert Lowe, Ron English, Lyman Woodard, Earl Klugh, Regina Carter, Joe LoDuca, Ralph Armstrong and Martha Reeves. Robert studied under his "Maest", Mr. Joe Fava and his past includes studies with Johnny Smith, Bess Bonnier; Ron English, Vaughn Andre Klugh, Keith Warnick and Howard Lucas. His performance history includes opening for Roy Orbison, performing at the Charlie Parker Festival in New York City and playing throughout the Midwest United States as a solo artist, with his guitar trio or with his horn band. Orchestra Hall, The Music Hall, the main auditorium of the Detroit Institute of Arts and countless Detroit nightclubs have experienced Robert Abate over the years. Robert is the founder and artistic director of Jacara, an artist based musical theatrical production company. April 2007, marked a long time desire to honor his guitar maestro Joe Fava. A performance promoted by Fox 2 News and WDETFM 101.9 Radio resulted in a standing room only crowd at the popular Memphis Smoke in Royal Oak, Michigan. Robert, at times, also performs with his virtual band, a panned stereo soundtrack created thru the Finale software music writing system.
A Gratified Teacher – Handing Down Music
Robert, who has been teaching music for 46 years, provides private and group guitar and music theory lessons to anyone with a serious desire to learn. Believing he has been gifted with the purpose of "handing down music" his musical spirit strives toward perfection and is unwavering.  As opportunities arise Robert is known to involve young players in his performances to provide them with a real performance experience.  For many years Robert has organized student shows, students performing with a professional bass player, drummer and equipment, in public venues.
A Detroit Composer – Producer
Over the years in addition to handing down music through teaching hundred's, Robert holds close three valued personal accomplishments. The first being his production of "Detroit Presents Detroit", a performance artist variety show, in which Robert also performed that was presented at Orchestra Hall. The second being his composition and production of "Dance for a Minotaur", a ballet performed in 1980 on the stage of the DIA featuring the Clifford Fears Dance Company and The Pastiche Wind Quintet and the third being a backers party for his 30's musical "Scattin" performed at The Music Hall in Detroit, Michigan. Posters for "Scattin" and "Dance for a Minotaur" are archived at the Detroit Main Library. Robert has recently completed a new musical entitled "The Bright Life". The show features a musical score for a 16 piece orchestra, 31 tunes and has up to 9 people singing on stage at one time. Robert also wrote the book.
Vision / Tenacity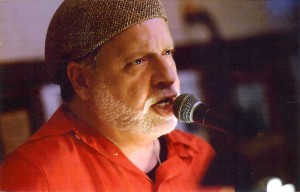 Unwavering in his internal wisdom; the love of music; along with his gratitude to still be playing and composing, has helped him remain steadfast with his musical goals.  Disciplined, daily arpeggios and scales help him "maintain a magical musical spirit". Tenacity and a desire to continue to create, please the people and above all keep handing "music" down ~ is ~ the Maest.  A final note: Rob maintains a most beautiful talent of hand written music, though he presently chooses to create his musical expression through the use and application of the Finale software program.